What does it cost for my business to participate?
This is a unique plan and offering. We are allowing limited participation to qualified local businesses. There is no cost for you or your employees to participate in the plan. You only pay for the services used.
Does my business qualify?
The Sterling Vision Savings Plan is designed for local Oregon-based businesses with 1-75 employees. If you would still like to inquire, but your business exceeds 75 employees, please contact visionplan@sterlingvision.com for further details.
What is the Sterling Vision Savings Plan?
According to the Bureau of Labor Statistics, less than two-thirds of businesses nationwide offer vision insurance.* This plan is designed to provide savings on standard vision care products and services for uninsured employees of local Oregon-based small businesses.
When you enroll, your employees will receive detailed information from Sterling Vision about the plan and can enjoy benefits immediately. These benefits cannot be combined with vision insurance.
* https://www.bls.gov/news.release/pdf/ebs2.pdf
What are the plan offerings?
Discounted Services
Cost
Without Plan
Cost
With Plan
Typical
Savings
Eye Exam w/ Medical Screening
$149
$75
Digital Retinal Imaging*
$70
$35
50%
$35
Sterling Vision Frames**
$100
$75
25%
25%
Other Retail Frames***
$100-400
$75-300
25%
$25-100
Contact Lens Fitting****
$100
$60
40%
$40
*With digital retinal imaging you may not need a dilated eye exam.
**Estimated price of glasses with Sterling Vision branded frames with single vision lenses. Prices may vary.
***Estimated price range of fashion branded frames with single vision lenses. Prices may vary.
****40% discount can also be applied to more complicated lens fitting service fees.
Other Benefits of the Plan
24-hour turnaround on glasses (specific locations)1
1 Some exclusions may apply
Over-the-counter eye drops at up to 25% less than leading online retailers
Online scheduling available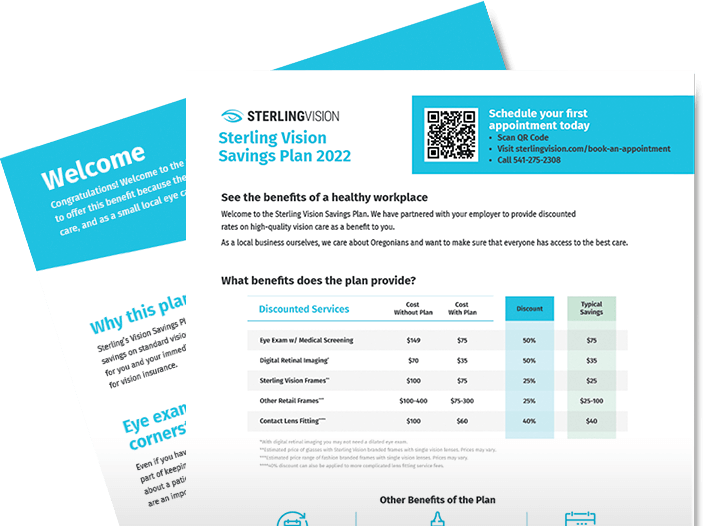 Download Brochures
Whether you're an employer who wants to learn more or wants to let their employees know about these benefits, we have a brochure you can download and print out:
Sterling Vision Savings Plan 2022 is not vision insurance, it is a discount plan offered exclusively at Sterling Vision. The savings plan cannot be used in conjunction with any other discount plan or insurance program. Patient must be a current employee of the enrolled company to take advantage of offers. Not all services are available at every Sterling Vision location. Sterling Vision reserves the right to cancel the plan at any time. Other restrictions may apply.