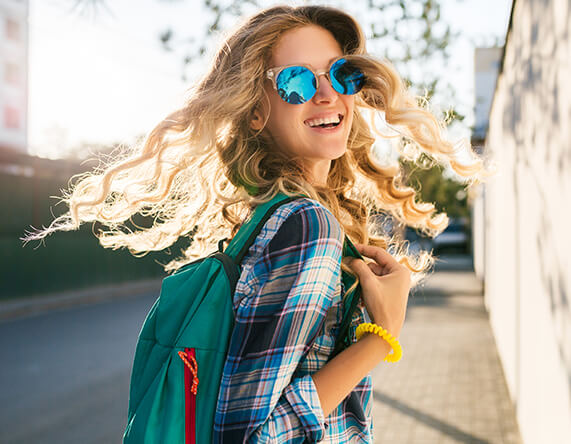 What to Look for When Selecting Your Summer Sunglasses
Here are some of the top features to consider when browsing for protective eyewear
Summertime is finally back, and that means memorable vacations, trips to the beach, more time spent outdoors… and a greater need for sunglasses. As you begin to peruse in-store and online selections for your next (or perhaps your first) pair, consider the following features and their benefits.
UV Protection
The primary function of sunglasses is to protect your eyes from the sun's harmful ultraviolet (UV) rays. Most sunglasses offer 100% UV protection, which is sometimes displayed as UV 400 nanometers (nm), but some brands offer less than that. Make 100% UV protection a must-have when you decide on a pair, no matter the other features you choose.
Polarized Lenses
A polarized lens is coated with a chemical film to help filter light and reduce glare. Many sunglass enthusiasts consider polarization to be just as important a feature as 100% UV protection. Although not a necessity, polarized lenses are highly recommended for people who plan to spend a decent amount of time outdoors, particularly in areas where the surface is likely to intensify the glare of reflected sunlight.
Photochromic Lenses
A photochromic lens is designed to adjust its tint based on the presence or absence of UV rays, growing darker or lighter accordingly. Some brands manufacture lenses that are both polarized and photochromic, so you don't necessarily have to choose between one or the other. As effective UV blockers, photochromic lenses are great for people who find themselves alternating between indoor and outdoor settings throughout the day, or people who are outdoors long enough to experience natural changes in sunlight.
Frame Material
A pair of sunglasses is normally constructed from some type of metal, some form of plastic, or a combination of both. Whichever frame material you choose will ultimately come down to personal preference, but there are some practical considerations. For example, plastic frames tend to be cheaper and more durable, whereas metal frames are generally lightweight and take up less room on your face.
Frame Size
A good pair of sunglasses won't only shield your eyes from frontal sources of light. Because sunlight strikes our eyes from multiple angles, larger frames offer far better protection, especially those that conform to the contours of your face. Oversized frames are also fashionable, so they can be a fun form of stylistic expression while also being practical.
Picking a pair of sunglasses should be a fun experience, but with so many styles, brands, and features to consider, it can quickly become a daunting task. The experienced eye specialists at Sterling Vision would be happy to guide you through this process so you'll be ready to usher in the summer with protection and style. To schedule an appointment with us, call 541-262-0597 or schedule online.