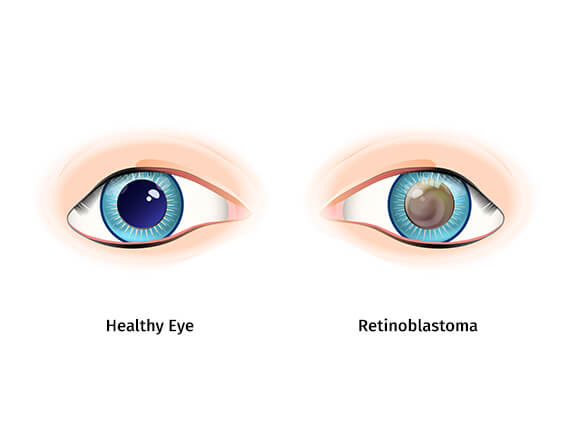 What Is Retinoblastoma?
This rare type of eye cancer can be devastating to a child's health.
Cancer is the second most common cause of death in the United States. As unfortunate as it is to admit, some cancers are more prominent in – and more devastating to – children. Retinoblastoma is one of them.
Retinoblastoma: An Overview
Retinoblastoma is a rare eye cancer most common in children under the age of 5, although adults sometimes contract it, as well. As its name suggests, retinoblastoma affects the retina, the part of your eye that sends signals to the optic nerve to be converted into images. When the retina's function is hampered, the results to the patient's vision can be detrimental and irreversible.
Causes
Retinoblastoma is caused by the accumulation of mutated nerve cells in the retina. Over time, these cells form a cancerous tumor. In some cases, the cancer can extend to other parts of the body. As of today, the exact cause of the mutation is unknown, although scientists have confirmed that retinoblastoma can be inherited.
Symptoms
The symptoms of retinoblastoma are few and far between, making the disease difficult to identify in its initial stages. The most common sign is whiteness around the pupil area, often only visible when a light, such as the flash from a camera, is shone into the affected eye(s). Other symptoms include reduced vision, redness, swelling, and misaligned eyes.
Treatments
Treating retinoblastoma depends on the severity of the tumor, whether or not both eyes are affected, and how much the cancer has spread. In any case, the goals are to remove the cancer, reduce the risks of relapse, and preserve as much of the patient's eyes and vision as possible. The most common treatments are chemotherapy, radiation therapy, laser therapy, cryotherapy, and thermotherapy. Enucleation, a type of surgery, is also available as a last resort.
Retinoblastoma is only one of many eye diseases that threaten children. Be proactive about your child's eye health by taking them to their annual vision exam. Sterling Vision consists of experienced optometrists, ophthalmologists, and other specialists capable of delivering effective treatments for a variety of eye conditions. To schedule an appointment with us, 541-262-0597 or schedule online.