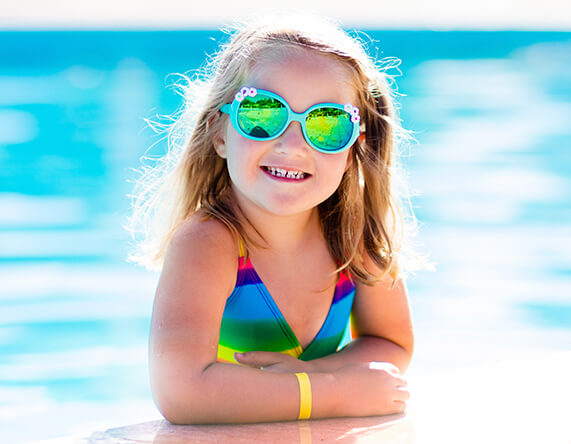 Summerize Those Eyes
In the sun and while having fun, protect your children's eyes.
Your eyes can get sunburned. It's called photokeratitis, and it makes for uncomfortable, itchy, tired and tearing eyes. Avoid it by using proper sun protection.
In the sun
Keep your child's future bright by protecting their eyes from the sun. When it comes to sunglasses, it's more than controlling brightness — it's about blocking harmful ultraviolet (UV) radiation. Consider:
Up to 80% of a person's lifetime exposure to UV light is received before the age of 18.
Clouds don't always block UV rays.
Studies have shown the importance of wearing sunglasses for preventing eye disease.
Sunglasses should block 99 to 100% of UVA and UVB rays. Seek UV protective sunglasses when the UV Index is 3 or greater — check the daily UV index on any weather app; it is scaled from 1 to 11+.
How do I find sunglasses to fit my child's smaller face?
Children's sunglasses are widely available at retailers and online. The key is to look for ones that block almost all UVA and UVB rays. You don't need to spend a fortune on them as they typically cost under $10 a pair. Children do need their own sizes in eyewear. You want to find a pair that fits: if they look too big on your child, they probably are. The goal is to find something that is lightweight and comfortable so your kids will actually wear them.
What if my child already wears prescription glasses?
You can get prescription sunglasses for them, too. Most of the frames we offer patients can easily be made with shaded lenses. If your child's prescription is up-to-date, you could simply order the same frames in sunglasses, or try the transition style of lenses that automatically darken in sunlight. Some patients like these because they offer a 2-for-1 solution, and you don't need to swap between pairs of glasses.
While having fun
Oh the joys of summer activities! When you're packing for adventures, consider eye protection for water and sports. Remember that:
When on the water, light reflects from below and the sun above, creating twice the exposure of harmful rays.
Swim goggles prevent irritation from pool chemicals. Most moms know it's worth packing the goggles to avoid red, irritated eyes that make for a cranky kid after a day at the pool.
Teaching your children how to mow the lawn and use other tools? Reinforce the use of safety glasses. Be a role model yourself by wearing them when you do projects.
Playing with foam blaster toys are fun, but not when a dart gets you in the eye. Any type of projectile toy or sport brings the need for eye protection.