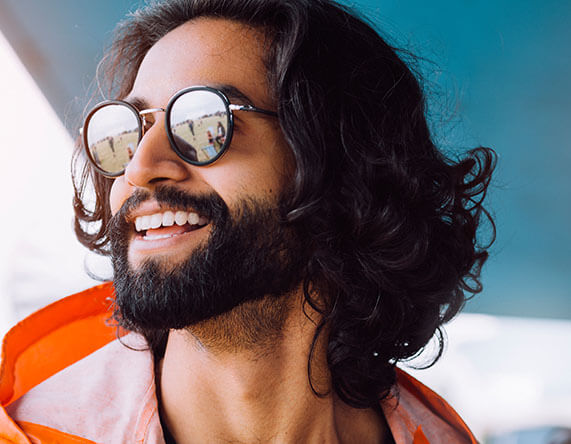 Staying On Top of Lens Coatings
Discover which coatings are right for your next pair of glasses.
There's more to picking out your glasses than just getting the appropriate prescription and choosing frames that suit your face. These days, you have a variety of lens coatings to choose from in order to make sure that your glasses work as hard for you as they possibly can, enhancing both their performance and durability. These coatings include UV, scratch-resistant, anti-fog, anti-reflective/blue light blocking and photochromic.
UV Coating
You probably already know that ultraviolet (UV) rays are harmful to your eyes. Most regular plastic lenses already have some amount of UV coating on them, but adding a UV-blocking dye to your lenses can block 100% of the rays. This type of coating is different from the "transitions" lenses that turn dark—we'll get into that in a moment—these stay clear.
Scratch-Resistant
Do you tend to scratch your lenses frequently? Scratch-resistant coating may be a good option for you. This coating goes on both sides of the lenses and will make them more durable and scratch-resistant. These coatings will usually carry a warranty with them, as well. While no coating can entirely keep glasses from scratching, this is a good idea if you have a history of scratched lenses.
Anti-Fog Coating
Anyone who wore glasses with a mask over the past year knows that glasses can fog up pretty easily. And while you probably knew about the sprays that can help with fogging, did you know that we can also apply a coating to your lenses? This is a popular option among medical professionals who wear masks on a regular basis, or people who cook over a hot stove.
Anti-Reflective
Like any piece of glass or plastic, your lenses reflect light. This can often make it hard for people to see your eyes, and can make it difficult to avoid light reflecting off your glasses and hitting other things. For this reason, many people opt to coat their lenses with anti-reflective coating, sometimes called anti-glare. This microscopically thin coating goes on the front and back of your lenses and eliminates reflections from all directions. They can also block most of the blue light from your devices. Though it's not required for your lenses, we recommend AR coating because it makes glasses-wearing a better experience.
Photochromic
Photochromic lenses are probably better known as "transition" lenses, as they react to UV rays to transition from regular clear lenses to tinted sunglasses in the sunlight. They offer a simple way to experience the benefits of both glasses and sunglasses while only purchasing one pair of frames, and they work whether it's sunny or cloudy outside. However, many car windshields block UV rays, so they aren't always effective while driving.
As you can see (get it?) lens coatings add to both the effectiveness and appearance of your glasses. At Sterling Vision we can discuss which coatings might be right for your needs. To schedule an appointment with us, call 866-439-3588 or schedule online.