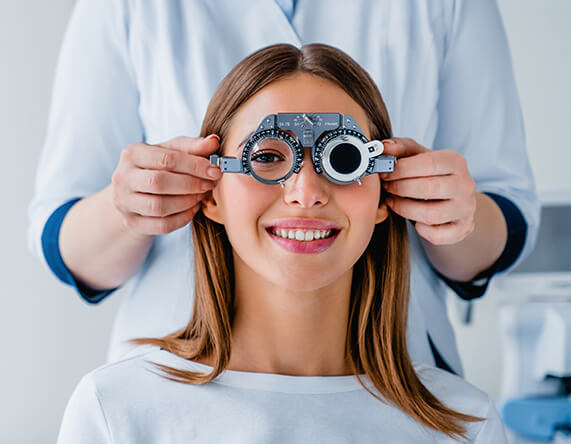 Optician, Optometrist, Ophthalmologist
Who are you supposed to see and when?
Although their responsibilities differ, all three of these specialists play an important role in providing vision care. Check out the specific expertise each one has so you know exactly who to go to for all of your eye care needs.
Opticianry
An optician is a technician who has been trained to design, provide, and fit eyeglasses and contacts for vision care patients. A differentiating factor that separates opticians from other vision specialists is that they do not write prescriptions. However, they do use prescriptions written by optometrist and ophthalmologists to help fit a patient for the correct lenses needed.
Opticians specialize in the following services:
Ensuring prescriptions match across the board (eyeglasses, contacts, prescription sunglasses)
Recommending eyeglass styles
Using special equipment to measure temple length, eye size, vertex distance, pupillary distance
Maintaining records of purchase and payments
Submitting vision insurance
Optometry
An optometrist is a healthcare professional who provides primary vision care. To become an optometrist, you're required to hold a doctor of optometry degree after finishing three or more years of college and four years of optometry school. Optometrists are available for various services ranging from eye exams to treating common eye disorders.
An optometrist specializes in the following services:
Providing vision tests and eye exams.
Prescribing and fitting corrective lenses.
Identifying and monitoring eye conditions related to other diseases, like diabetes.
Treating common eye issues like glaucoma and age-related macular degeneration.
Ophthalmologist
Ophthalmologists differ from the previous vision roles due to their levels of training and what they can diagnose and treat. To become an ophthalmologist, you're required to hold a bachelor's degree, four years of medical school, and a four-year ophthalmology residency. All in all, it takes at minimum 12 years of education and training to become a board-certified ophthalmologist.
Ophthalmologist specialize in the following services:
Diagnosing and treating all eye diseases
Performing eye surgery
Prescribing and fitting eyeglasses and contact lenses to correct vision problems
Researching causes and cures for eye diseases and vision disorders
At Sterling Vision, we offer Opticianry, Optometry, and Ophthalmology to ensure we're meeting all your vision care needs. Give us a call or stop by one of our convenient locations to schedule your appointment today!