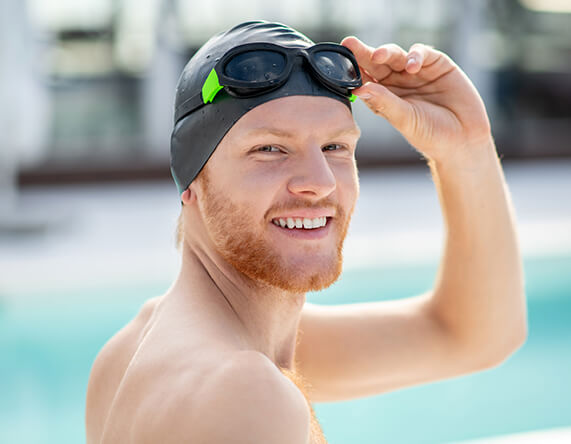 How to Protect Your Eyes in the Pool
Follow these tips to help prevent contact with contaminants.
One of the summer activities that many of us look forward to is relaxing in a swimming pool on a hot day. Although associated with fun and recreation, swimming pools are sources of chemicals and contaminants that can be harmful to your eyes. Keep your eyes protected the next time you take a dip by following these helpful tips.
Wear Goggles
Goggles are your eyes' best line of defense against pool water. The protective benefits of goggles are pretty straightforward; they create a barrier that prevents water, along with all of the foreign particles within it, from making contact with your eyes. For maximum protection, purchase a pair of airtight goggles that are designed to better adhere to the space around your eyes and reduce the chances of water leaking in.
Remove Your Contact Lenses
Whether you're in a pool, the ocean, or your shower, wearing contact lenses when your eyes might come into contact with water is not a good idea. Between your eyeballs and your contacts, there is ample space for bacteria to lodge and multiply, significantly increasing your chances of infection. This risk is especially high with pool water, which is rife with chemicals and bacteria. Always remember to pop out your contacts before you leap off the diving board.
Lubricate Your Eyes in Advance
Dry eyes are more susceptible to harmful chemicals and bacteria due to a weakened tear film. To keep this protective layer functional throughout your swim, make sure to lubricate your eyes beforehand with drops. Many brands of eye drops are sold over-the-counter, but some may be better suited for you than others. Be sure to consult your doctor before you use any new eye-related products.
Rinse Your Eyes Afterwards
Once you've finished your swim, you should rinse your eyes with eye wash as soon as possible. Even after you dry off, microscopic chemicals and bacteria are still on your skin, some possibly in proximity to your eyes. Cleaning your face and the areas around your eyes and eyelids will do wonders in sparing you from any post-swim complications.
Swimming in a pool may seem like a low-risk activity, but improper care can result in eye irritation, burning, and even infection. If serious symptoms occur, such as pain and distorted vision, you should immediately seek medical attention.
As always, your best deterrent against undiagnosed issues is attending your annual eye exam, and Sterling Vision excels at giving our patients a comprehensive overview of their health. To schedule an appointment with us, call 541-262-0597 or schedule online.