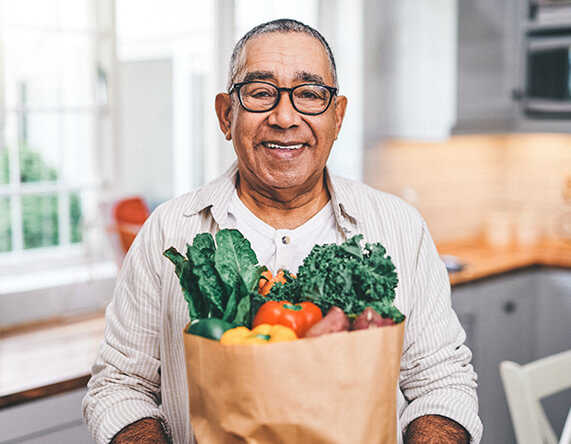 Healthy Vision Month
Make your eye health a priority this month and every month
According to a survey conducted by the National Eye Institute, more than 23 million Americans aged 18 and older have never had an eye exam. That's why in 2003 the National Eye Institute established May as Healthy Vision Month to encourage Americans to make their eye health a priority. To take part in this vital campaign, we've gathered some tips to help you keep your vision healthy now and in the future.
Know your family history.
Knowing your family's eye health history can help correct and treat eye conditions in their early stages. Share your family history with your eye doctor so they can recommend healthy lifestyle choices that can lower future risks.
Eat right.
Nutrients like omega-3 fatty acids and vitamins C and E can help reduce the risk of age-related vision problems like macular degeneration and cataracts. A healthy diet is also key to maintaining a healthy weight and reducing your odds of obesity and diseases like type 2 diabetes — which can lead to permanent vision loss.
Don't smoke.
If you smoke, you can develop serious eye conditions that can lead to vision loss or blindness, including age-related macular degeneration, cataracts, glaucoma, and diabetic retinotherapy.
Wear protective eyewear.
When playing a sport, or doing housework and yard work that could potentially involve dust, fumes, debris or other flying particles, make sure to wear the appropriate eye care to prevent any serious injuries from occurring.
Wear sunglasses.
Whether the sun is out or not, you should always wear sunglasses when outside to protect your eyes from ultraviolet light, which have harmful effects on the eyelids, cornea, lens, and retina.
Schedule your yearly eye exam.
Since 90% of eye diseases are preventable when caught early on, it's important to stay on top of your eye health and get your vision checked regularly. As always the best way to prevent any lasting eye injuries, is to schedule a routine check up with your eye doctor.
At Sterling vision, our eye care is focused specifically on you. Give us a call or stop by one of our convenient locations to schedule your appointment today!