How to Tell if Your Glasses Are the Right Fit for Your Face
Looking for that perfect pair of glasses to compliment your face?
Whether you have an oval-, square- or round-shaped face, we have a pair of frames made just for you! From budget-minded to designer styles, from specialty glass to performance coatings, you'll find it all at Sterling Vision. So go functional, luxury, sporty or chic. Just know that before you go, our highly trained eyewear specialists will have you perfectly framed no matter your style or budget. In fact, if after working with our eyewear specialists you don't get five smiles or compliments within three weeks, we'll exchange your glasses for free!
But if you want a quick primer before your visit, here's a simple guide. We've designed it to help you find those perfect frames that'll fit both your look and lifestyle.
To choose your new frames appropriately, you'll first need to identify your face shape. There are five main categories: Square, Oval, Heart, Triangular and Round.
Once you've identified your face shape, you can find which frame shape will bring balance to your face. This guide will help determine the type of frame shape you should look for when browsing our variety of styles and sizes. A good rule of thumb is to look for a frame shape that's the opposite of your face shape.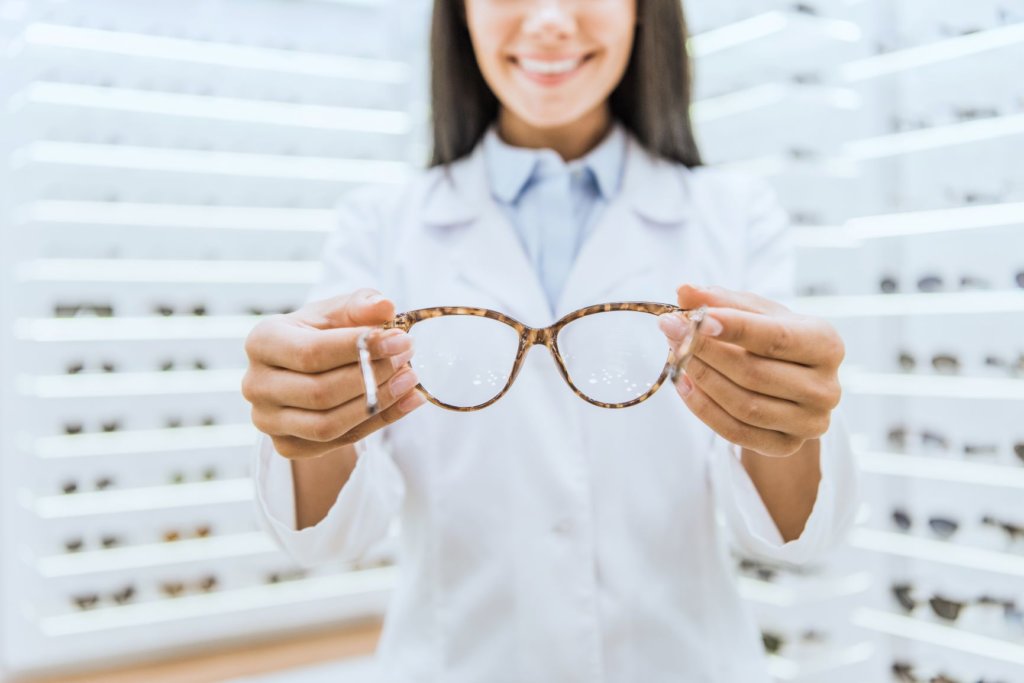 Square Face
A square face has more angular lines with broad cheekbones, forehead and jaw. To complement these natural features, choose the opposite shape for your frames. Round- or oval-shaped frames tend to look best. Thinner, round-edged frames that are slightly wider on the side will provide a harmonious and natural look to square faces. Round frames help counter the hard angles of a square-shaped face while adding an elegant softness.
Oval Face
An oval face is the most versatile of all the shapes, with wider cheekbones and a gentle narrowing toward both the forehead and jaw. Oversized frames work great with your features. Look for a frame that's almost exactly the same width as the widest part of your face. We recommend square-, rectangular- or geometric-shaped frames for oval faces. Choose a bold shape that complements your personal style.
Heart Face
A heart face is widest at the forehead/brow and gradually narrows downward to the jaw. This face shape also usually has high cheekbones. To look your best, avoid bottom-heavy and oversized frames. Instead, opt for something thin and smooth-edged. The goal is to draw attention up from the bottom half of the face. If you're looking to soften angular features, a rimless style can be especially flattering. We suggest round and square frames. For balancing the widths of your face, look for ultra-flattering thin- and lighter-framed glasses. Additionally, wireframes and retro-style round frames are the perfect trend for those with heart-shaped faces.
Triangle Face
A triangle face is widest at the jaw and gradually narrows upward to the forehead. With this face shape, you'll want to find the opposite frame shape: bold on top, light on the bottom. Choose frames with detailing on their upper portion, such as with a cat-eye style. Browline or cat-eye frames will work great with your features. Just be sure the frames you choose are wider than your jawline to achieve that perfect balance.
Round Face
A round face has softer angels with fuller cheekbones and an equally broad forehead and jaw. This shape is formed from soft curves and a facial width that's roughly equal from the jaw up past the brow. The cheeks on round faces are usually full, and the chin is round with fewer angles. To complement these curves, choose a frame that adds bold angles to your face. Square frames will help define your facial structure, making it appear longer and thinner. Make sure to avoid oversized round frames—they'll just emphasize the roundness, and won't be as flattering as a square style.
Once you know the right frame shape for your face, it's time to find a pair that will also complement your lifestyle. If you're extremely active, we recommend flex frames or frames made from titanium. Or are you seeking a business look? Or bold colors? No problem–we've got you covered.
Still not sure about your face shape? We've got you covered there, too! Our eyewear specialists can advise you on your face shape and guide you toward frames that are a perfect match for your face and lifestyle. We don't just think you'll love your new look. We guarantee it. Plus, we're always updating our inventory with a wide variety of new frame styles and colors.
---
Call our office or fill out the form below to schedule an appointment today!